Burlington Named Woven Partner for Eastman Avra™ Performance Fibers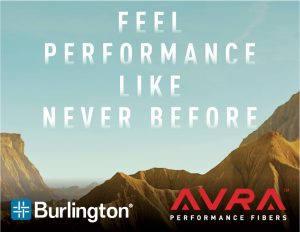 Burlington, a global diversified provider of textile solutions, is pleased to announce that it has partnered with Eastman Chemical Company for the development of woven fabrics with Eastman's Avra™ performance fibers.
Avra's ultra-thin polyester fibers are extruded and held together by a proprietary removable polymer that can be easily woven or knit into fabrics. Once the fabric is made, the removable polymer washes away in hot water creating ribbon-like fibers that are smaller than traditional polyester fibers, resulting in a distinctly silk fabric that keeps the wearer drier and more comfortable.
"As a leader in innovative performance fabrics, wicking, cooling and comfort are attributes found throughout Burlington fabrics," says Nelson Bebo, vice president technical sales development. "The unique size, shape and performance of Avra™ fibers provide opportunities to take fabric performance to the next level with faster wicking, shorter dry times and a greater cooling sensation, while the superior drape and softness provide enhanced comfort for the active outdoor enthusiast."
"Burlington is the perfect woven partner to explore the possibilities of Avra™ performance fibers in woven fabrics," says Jon Woods, general manager of Textiles and Non-wovens at Eastman. "Their expertise in R&D, fiber technologies and performance innovations offers a wealth of knowledge to advance the application and performance benefits that AVRA provides today and new possibilities for the future."
Burlington will feature garments powered by Avra™ at the Outdoor Retailer Summer Market, July 23 – 26. Available at both the Burlington booth MR#204 and the Avra™ booth 5019-LL. Come explore our many performance fabric technologies and discover what Burlington fabrics can do for you.