Cone Denim and Burlington Recognized as REPREVE® Champions of Sustainability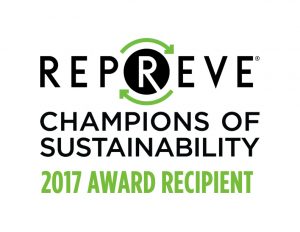 International Textile Group, Inc. (ITG) is excited to announce that both its Cone Denim® and Burlington® brands have been recognized as REPREVE® Champions of Sustainability by Unifi, Inc. The inaugural award was established to recognize and celebrate Unifi's brand and textile partners who have shown exemplary commitment to sustainability.
"We are honored and pleased to receive this distinction as part of the inaugural group of 25 brands, retailers and manufacturers recognized by REPREVE," says Kenneth T. Kunberger, President & CEO International Textile Group. "ITG is committed to furthering our sustainability initiatives and working with our brand partners to create better, more socially responsible products. This not only defines who we are but also motivates our actions and lays the foundation for our vision of tomorrow.
Kunberger continued, "We are excited to expand our collaboration with Unifi as we further the development of sustainable, innovative fabrics through our R&D incubators, Burlington Labs and Cone 3D, in addition to our initiatives to drive resource efficiency and conservation throughout our global operations."
International Textile Group is a global, diversified provider of textile solutions across performance & specialty apparel fabrics, advanced uniform fabrics, technical commercial fabrics and engineered automotive components. ITG's businesses include Burlington, Cone Denim, Safety Components and Carlisle Finishing with global operations in the United States, Mexico and China.