Safety Components' primary focus is to develop innovative and cutting-edge fabrics that maximize high quality and durable raw materials for today's technical markets.
Safety Components is a global market leader in technology driven fabric solutions for first responders, military, outdoor, and other high performance textiles. Safety Components has been manufacturing textile fabrics for over 100 years at its plant in Greenville, South Carolina.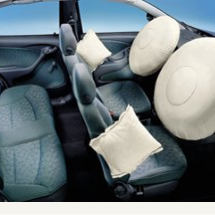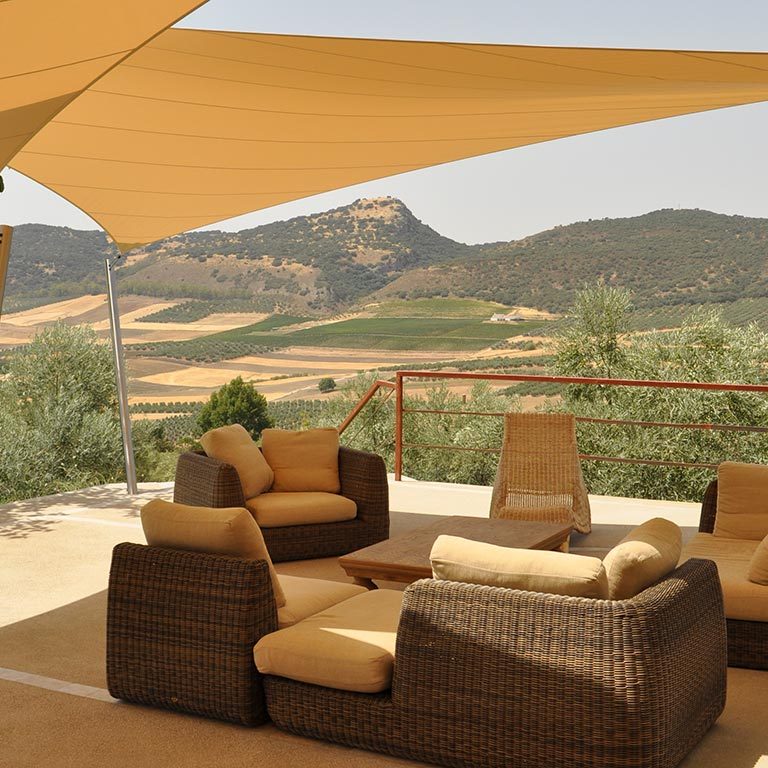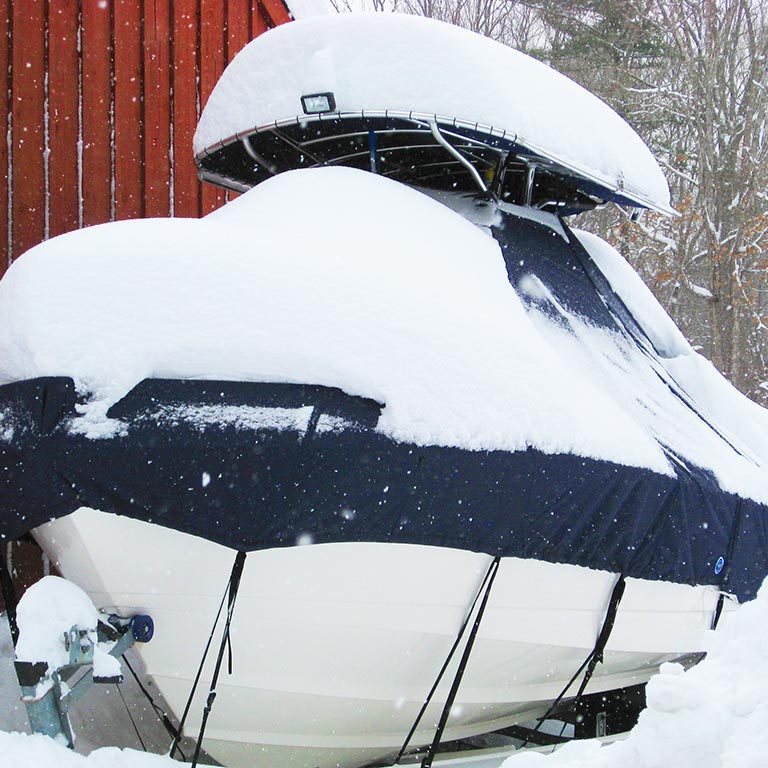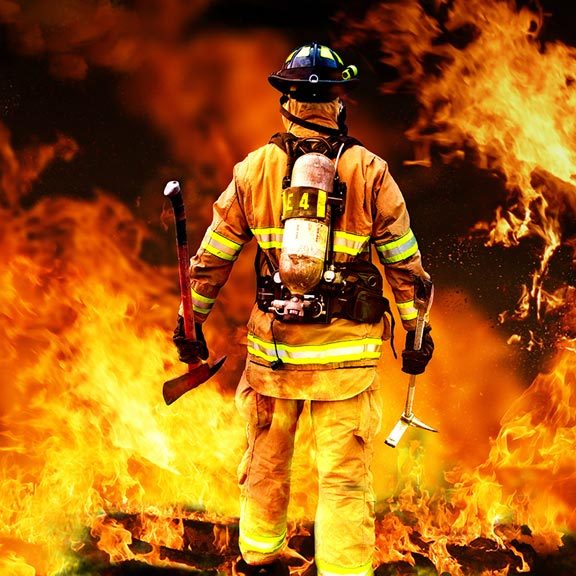 Sigma 4 Star™ Fire Retardant Fabrics
Sigma 4 Star FR fabrics represent the latest technology from Safety 
Components and the ITG military group. By leveraging our technology 
leadership position achieved in the commercial firefighting market with one of
the largest and most diverse apparel fabric producers in the world, we present 
Sigma 4 Star protective fabric as the ultimate in FR battle dress protection, 
comfort and durability. A wide variety of finished weight options are available, ranging from 2.9 to 7.0 oz/yd².
BodyShield™ Composite Technology 

BodyShield composite technology is a patent-pending flame resistant insulative 
garment system. The combination of Stealth™ outer shell fabric technology and 
Versatech® FR lining technology coupled with the BodyShield FR insulating 
composite technology provides maximum protection against the elements in 
extreme cold weather conditions, superior FR and near infrared protection, 
while maintaining the proper balance of breathability, warmth, packability, 
and aesthetics.
Nomex Military Fabrics 

Building upon a manufacturing heritage that spans more than 100 years, 
Safety Components engineers a range of natural or producer-colored Nomex® 
products for military end uses. Our manufacturing capability includes fabrics 
for pilots' and combat vehicle crewmen's coveralls as well as the latest in FR 
industrial workwear and structural firefighting gear.
Technical Military Fabrics 

Safety Components produces a variety of technical fabrics for the military. 
These products include various mil spec end uses, ballistic fabrics, fuel cells, 
polyester tentage, and numerous other applications using nylon, polyester, 
and aramid yarns. In addition, we welcome the opportunity to partner and 
develop any new fabrics based on customer requirements.
Filament Twill Technology
Technology in PPE has advanced at an amazing rate over the last few years. 
Lighter, stronger, more flexible FR fabrics coupled with ergonomic garment designs 
have revolutionized the way firefighters perform while wearing turnout gear. 
Filament Twill Technology™, developed and patented by Safety Components, 
can be found in outer shells like PBI Max™ and Armor AP™ and in thermal 
liners like Glide™.
Outershells 

Recognized as the technology leader and one of the largest global suppliers of fire-
fighting fabrics, Safety Components innovative fabric solutions continue to improve 
the personal protective performance of outershell fabrics. Whether it's enhanced, 
durable water repellency for safer, lighter, more comfortable gear, or solution dyed 
fibers for improved color consistency, or lower profile ripstop weaves for improved
 resistance to abrasion, or most recently the inclusion of military grade Kevlar® for 
improved durability…look to Safety Components for superior outershell fabric performance.
Thermal Liners

Technological advancements in firefighting fabrics extend through our complete line of
thermal liners. With innovations that address the key elements in thermal liner
performance such as moisture management, freedom of movement and weight gain.
As the last layer of defense, we understand the importance of properly engineered
thermal liner systems. That's why we patented higher lubricity liners featuring 
excellent moisture management and pure fiber battings for consistent TPP and
THL performance and water repellent spunlace for improved moisture wicking.
Wildland, USAR, Apparel
Regardless of the tasks at hand, these situations all demand gear that is 
lighter, tougher and drier. That's why we employ the most advanced weaving 
technology in the world, combined with high performance fibers like DuPont™ 
Nomex®, DuPont™ Kevlar®, Lenzing FR and PBI to offer garments that are lighter 
weight, yet provide advanced protection and performance. Fabrics that assure 
higher thermal protection with exceptional comfort and durability, fabrics that are 
certified to NFPA 1977/1975/1951 — the most reliable garments on the market today.
Leaders By Design
Safety Components has been the leading producer of automotive air bag fabrics in North America since developing the industry's first air bag fabric for General Motors in 1968. Recognized as the highest quality and lowest cost producer in the automotive industry we proudly sustain a large market share. In fact, in every customer survey since 1990, Safety Components has been rated as the highest quality supplier in the air bag fabric market.
We design and manufacture a complete range of fabrics for driver, passenger, side-impact, knee-bag and side curtains air restraints. All our fabrics are fully inspected and tested to customer specifications in our ISO/IEC Guide 25 accredited laboratories.
At Safety Components we know the air bag business and we are air bag fabric specialists. As with other divisions of Safety Components, quality and safety are our number one priority.
Safety Components is a leading North American producer of synthetic fabrics for
multiple aerospace applications. Our current aerospace products are an excellent
representation of our manufacturing flexibility and commitment to quality. We are
the worlds' leading producer of aircraft evacuation slides, Nomex® fabrics for aircraft
seat fire-blocking and specialty fabrics for aircraft vapor barrier and insulation blankets.
Along with composite fabrics for landing gear bearings, fabrics for solid rocket fuel
engines for the space shuttle and fabrics for crashworthy fuel cells for military aircraft.
WeatherMAX®
Now you can have protection from the elements and a quality, long lasting
appearance all in one. WeatherMAX is designed to be water tight and breathable.
Our exclusive HydroMax™ finish delivers unsurpassed water repellency and mildew
resistance maintaining the fabric's natural breathability. Engineered for long-term color
and strength retention, WeatherMAX outperforms and outlasts other outdoor fabrics -
including acrylics and solution-dyed polyesters.
WeatherMAX is unmatched in appearance and provides superior longer lasting performance for color and strength retention - outperforming traditional outdoor fabrics.
WeatherMax is available in two weights and a range of colours. It is an ideal solution for boat and sail covers, biminis, awnings & spray hoods, UV strips and upholstery.
WeatherMax 80 (271gr/m²)

Super high strength and durability, combine with long-term color retention to deliver a truly versatile marine fabric for a variety of applications. The industry's most balanced and cost-effective fabric available for covers and awnings requiring outstanding durability, higher water repellence and excellent breathability.
WeatherMax LT (220gr/m²)
High strength and the same inherent fade resistant properties found in the WeatherMax 80 fabric, all packed into a true lightweight fabric. The perfect choice for UV strips and small covers or other applications where light weight and ease of packing offer an advantage.
BreakWater X™ was engineered to withstand the harshest conditions on any boat. BreakWater X stands up to UV rays, salt spray, heat, and anything else Mother Nature can throw at it. Our ten year warranty is double that given for most conventional PVC coated fabrics. Our high tenacity base fabric is unmatched in its strength, providing double the tear strength and 20% higher tensile strength over conventional PVC fabrics. BreakWater X remains soft and pliable over time and will never crack, flake, or peel. It can be welded, glued, or sewn with ease
for versatility in fabrication. BreakWater X is perfect for lace-on tops, permanent
and semi-permanent tops, as well as enclosures.
Safety Components is a leading producer of synthetic fabrics for an array of technical
and commercial coating applications. With highly trained associates, equipped with
the latest in fabric formation technology, we've garnered a reputation for product
quality, product innovation, product diversity, and on-time delivery. These fabrics
are produced for various coating applications ranging from highly technical
aerospace products to commercial boat covers and truck tarps. All products
are produced and tested to each customer's unique set of specifications.
For over a quarter century, Safety Components has been the leading supplier of
synthetic woven filtration fabrics for both dry and liquid filtration requirements. We
offer the most complete range of fabrics and fabric forming equipment capabilities in
North America. We maintain state of the art equipment, with the capabilities to enhance
the physical performance of a fabric. Dedicated associates are available to service
your needs for spun and filament polyester, spun/filament polyester combinations, spun
and filament Nomex®, polypropylene, homopolymer acrylic and nylon fabrics.
We are one of the largest producers of precision specialty fabrics in North America
and have built a solid foundation for product quality and manufacturing diversity.
Safety Components was the first technical fabric producer in North America to
become certified under both the QS9000 and ISO9002 programs. We have the
capabilities to manufacture the innovative ideas of tomorrow's specialty fabrics,
today. Our ability and willingness to innovate and explore new fibers and
fabric finishes is a key to our entrepreneurial success on many new products.
Our staff awaits the opportunity to consult and service on your ideas.
Boatbuilding Methods & Materials
Safety Components Fabric Technologies Breakwater X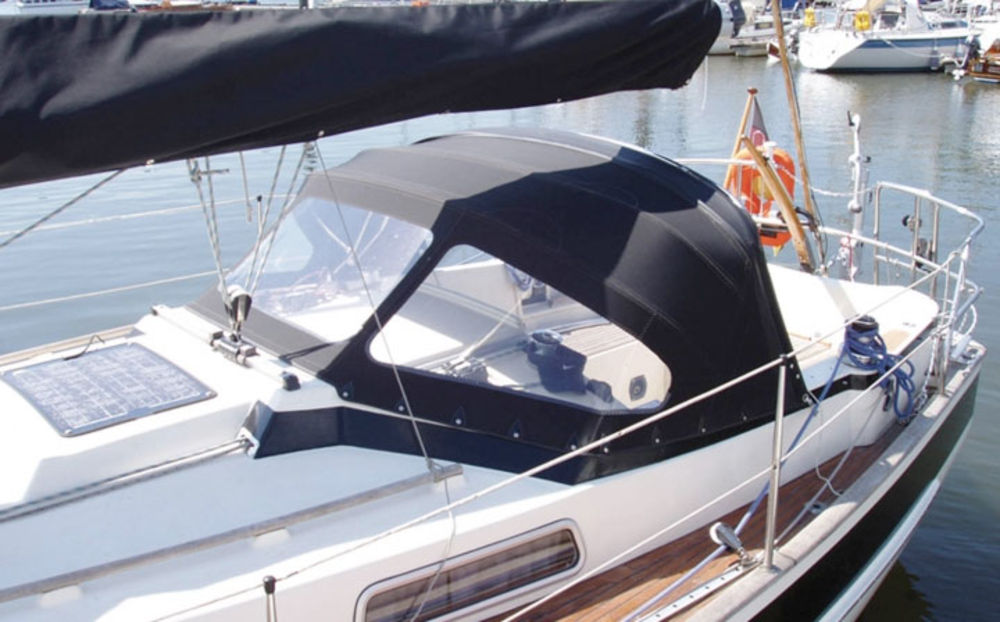 "A marine exterior fabric with a 10-year warranty, made from an advanced polymer alloy and built to withstand the harshest environment is unheard of."
As described by Judge Neil Calder, judge at the International BoatBuilders Exhibition and Conference (IBEX)